23ZERO Falcon Awning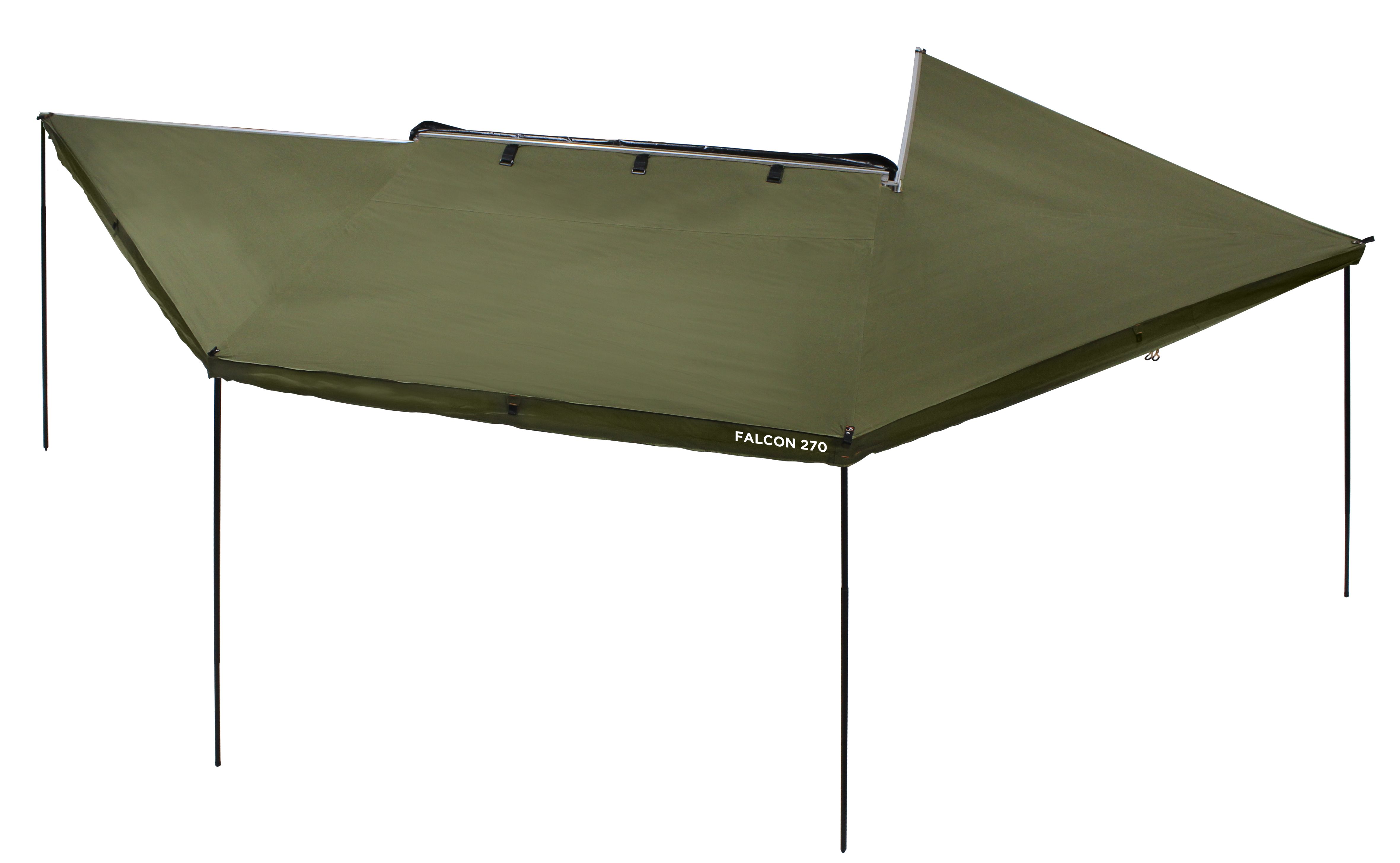 Suitable for mounting on the left side of dual cabs as well as wagon and canopy arrangements, the 5 arm Falcon 270 Awning from 23 ZERO offers an incredible amount of shelter and is the perfect choice for your touring or camp set up. Ideal for overnight stays, meal breaks and long term base camping.
With a span of over 6 metres along the length of the vehicle when fully erected, over 10m2 of undercover area is achieved. When paired with the 2 optional walls (sold separately), the Falcon goes to the next level with up to 25m2 of shelter around your vehicle making it ideal for under cover swag/stretcher, kitchen and storage set ups.
The awning can be easily set up by one person in under 60 seconds due to the free-standing design with two integrated swing down telescopic legs for ease of set up and pack down. Constructed with extruded box aluminium rafters, cast aluminium hinge mechanisms and covered with 280gsm 65/35 polycotton tear check canvas, the Falcon 270 is surprisingly light weight at under 19Kgs.
The Falcon 270 also features 23 ZERO's latest innovation – climate control Light Suppression Technology (LST)
LST is a uniquely formulated dark coating applied to the underside of the awning, the inside of the canvas awning walls and the inside of 23 ZERO roof top tents models effectively defusing sunlight and UV rays from passing through the awning canvas or entering the inside of the tent.
Engineered to be applied to 23 ZERO's hard wearing polycotton canvas with a two pass process including an anti UV treatment, Light Suppression Technology provides the added benefit of keeping you cooler during hot summer days.
Categories
AUTOMOTIVE AFTERMARKET
CAMPING & OUTDOORS