23ZERO Saber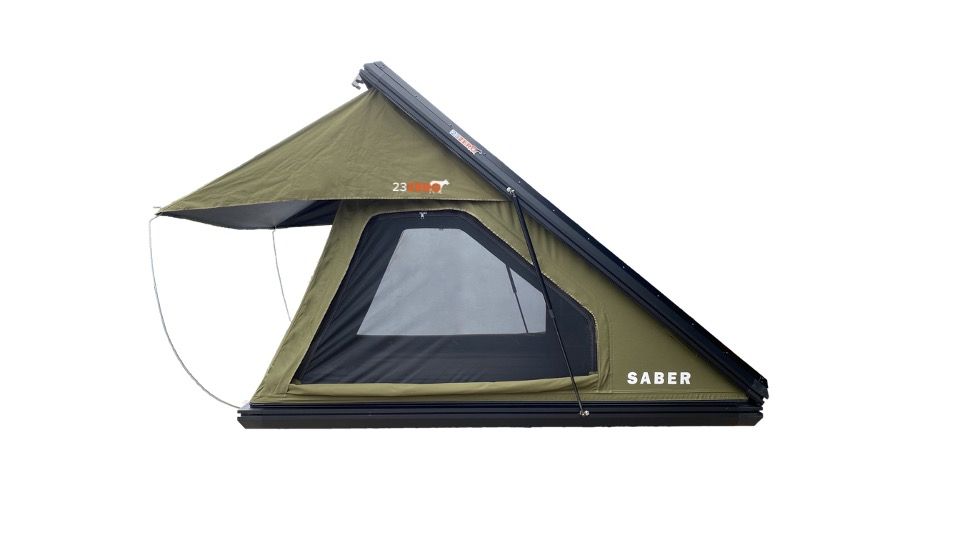 Release the securing latches and allow the gas strut assisted insulated aluminium hull to do the rest… "it's that simple!"
With modern aesthetics and constructed to meet the demands of today's overlanders and campers both in Australia and the USA, the Saber's impressive internal length of 2200mm ensures there is ample room throughout for a hinged pop-up design.
Taking sleeping comfort to the next level, the Saber is fitted with a super comfortable 80mm rebound foam mattress accompanied with a 20mm padded anti-condensation mat, or for those who prefer 5 star camping, the option of a fully Australian made 23Zero 100mm inner spring mattress is also available.
Sleeping bags, doonas or blankets can be stowed neatly inside the tent making for an effortless set up and pack down.
Featuring 23Zero's innovative LST canvas coating effectively defusing sunlight and UV rays from entering the inner tent, 3 screened entry and exit points provide you with the option of accompanying the Saber Hardshell Roof top tent with a side or 270 degree awning giving you the ultimate camping set up.
Carry your bike, paddle board or recovery tracks with the 3 x T-slotted roof bars included in the kit for further convenience. Easy to maintain and clean, the 23Zero Saber Hardshell is built to serve!
Categories
AUTOMOTIVE AFTERMARKET
CAMPING & OUTDOORS