Become an Exhibitor
Become an Exhibitor in Brisbane
With a range of product, information, entertainment,competitions, features and hot deals spread over 20,000 square metres; the event is a haven of the outdoor lifestyle enthusiast.
There's plenty of reasons to become an Exhibitor at the Brisbane Expo;
Over 92% of visitors said they would buy and / or recommend products they have seen at the show
97.6% of visitors said they attend the show to look at new products
65.6% of visitors made a purchase at the show
Over 89% of visitors attend the National 4x4 Outdoors Show, Fishing & Boating Expo to have a fun day out.
85% of visitors agree that "The National 4x4 Outdoors Show, Fishing & Boating Expo is the best outdoor recreational show for 4x4, camping and fishing enthusiasts in Brisbane
Expo Highlights
A staple of the National 4x4 Outdoors Show, Fishing & Boating Expo in both Brisbane and Melbourne is the Action Arena. In 2017 we are returning to the
main arena at the Brisbane Showgrounds to really up the ante with adrenalin pumping entertainment for the whole family.
Hosted by Paul Worsteling of TV's IFISH the fishing stage is a must see for all fishing enthusiasts. Both fun and educational our hosts will keep beginners
and experienced anglers alike entertained all day with tips, tricks and sensational stories.
The 4WD Proving Ground will return in 2017 with a packed schedule of demonstrations to ensure your next adventure is a success. Learn the keys to
towing techniques, safe winching procedures, and recovery tips that will give you the confidence to try your hand at 4WDing.
Hosted by Spida and Sheree Everitt, of the Great Australian Doorstep 2017 will see the return of the popular Campfire Cooking Stage. Proving that the days of simple damper are long behind us, they will put the BBQ and campfire grill to the test with a range of recipes and tips to make anyone a masterful chef. Spida will be joined by a line up of special guests on the purpose built outdoor stage.
The Outback Stage features a huge line up special guests in an entertaining and informative program of presentations and interviews. Previous guests have included John 'Roothy' Rooth, Jase Andrews & Simon Anderson, Allan Gray, Rick O'Brien & Jamie Hazelden and Carlisle Rogers.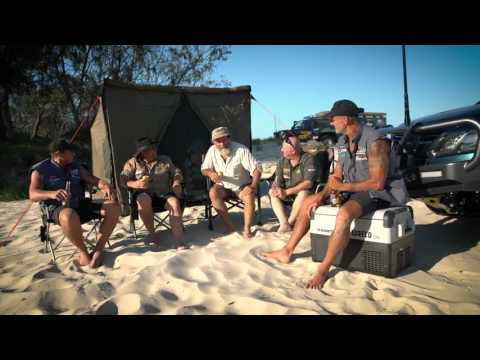 Exhibit With Us
Now has never been a better time to exhibit at one or both of our shows. Please complete the following details to find out more or call 03 9321 6755