UHF182X with ANU800 and ANU850 Bundle - $568! Save $219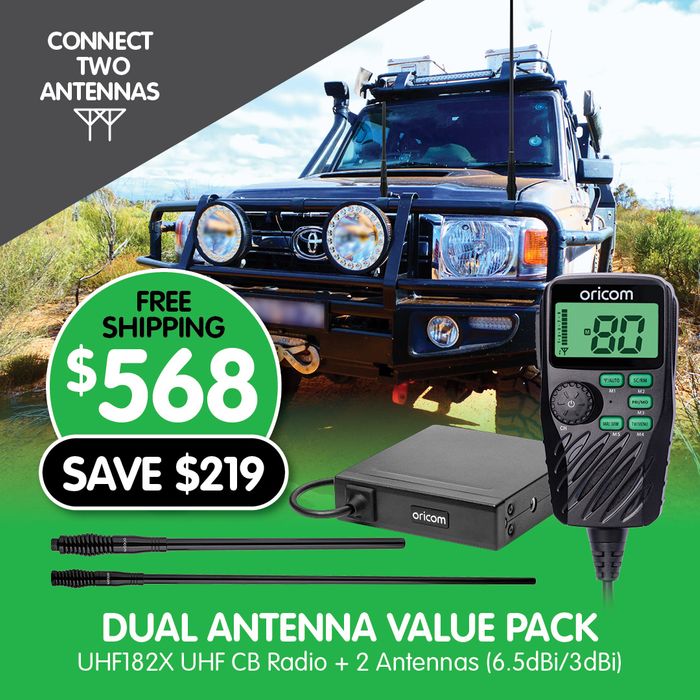 This VALUE PACK consists of the UHF182X Dual Antenna UHF CB Radio, ANU800 6.5dBi Antenna and ANU850 3dBi Antenna.
Finally, UHF CB radio users can get the best from two antennas without the need for an additional switch.
Whether you're in the high country, in rough terrain or on the flat, Oricom's Smart Dual Antenna Technology makes sure you stay in touch with all the features you'd expect from a 5 watt UHF CB Radio.
The UHF182X features the unique Integrated (DAS) Dual Antenna System, allowing you to always receive the strongest signal automatically.
The reverse side of the transceiver features two antenna inputs, offering the best communication solution for whatever terrain you find yourself in.
Including a heavy duty Controller Speaker Microphone and a 3 Colour Backlit Display, this UHF is an exciting addition to the ever evolving Oricom range of high qulaity and well engineered UHF CB radios in Australia and New Zealand.
Categories
AUTOMOTIVE AFTERMARKET
CAMPING & OUTDOORS
VEHICLES