18 Jul 2022
Preparing for adventure with surfer pros Macy & Sheldon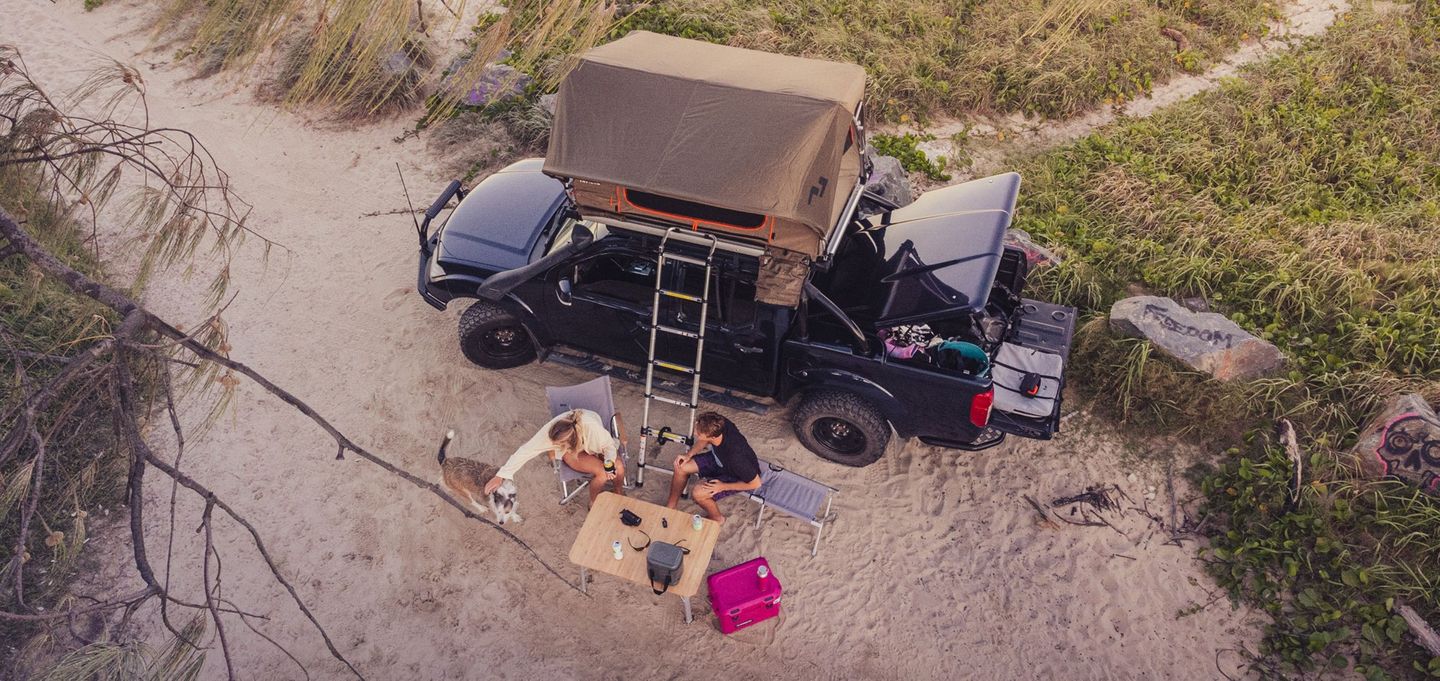 What started as a week-long getaway to one of the most beautiful islands off Queensland, Australia, turned into an adventure that almost lasted a month for Macy Callaghan and her partner Sheldon Simkus.
Their travels to Fraser Island were the professional surfing couple's first camping trip away together, and it certainly won't be the last.
The couple have turned from budding campers to keen explorers during the past year and are now locking in travel plans for the year ahead.
THE ADVENTURE AWAITS
Words by Macy Callaghan.
Since the pandemic, Sheldon and I have really enjoyed utilising what's on our Australian doorstep. We both love exploring new beaches, new campsites and destinations neither of us has been to before. We are getting organised and getting a list of locations and landmarks we'd like to go to and explore. We have a surfing event in the Foster region which is such a beautiful part of the East Coast of Australia. That's looking like it will be our first destination of the trip. From there, we will check out the weather maps and surf conditions and try to line up somewhere for a few days of relaxing and free surfing. We have pencilled in a few freshwater steams up behind Coffs Harbour (in NSW), a few campsites in Crescent Head and other places close to the coastline of mid-NSW. Our goal is to go places and really take in the scenery, relax on the beach and in a camp chair, walk over to the following headline and enjoy the beautiful country we live in. Another goal of ours is to try and catch fresh fish as much as we can, wherever that may be. We're not too sure how this is going to go!
Sometime in the future, we would love to go around Australia and check out the different coastlines and cultures. But at this stage, we will be heading south with no real end in destination. Although, I feel once we complete this trip, we will have worked out all the necessary items we will need and be more prepared for a road trip of that calibre.
MACY'S FAVOURITE PLAYGROUND
When Sheldon and I first got together, we went on a pretty cool Queensland road trip where he took me 4-wheel driving to Fraser Island and Moreton Island in Queensland. We had initially planned for a week-long trip, but we ended up spending almost 3-weeks exploring and enjoying ourselves. That really lit a fire in our love for camping and the endless journeys and places that are out there to be explored.
I'd love to go back to Fraser Island. Having the biggest sand island in the world on our doorstep to visit is super special. The number of landmarks and locations to check out there is breathtaking. Having kilometres of beautiful beaches with many inland freshwater lakes is something I'd never experienced.
Since then, we've really got together all the right gear for any journey we desire, whether that's going to an island or inland camping. That's the beauty of having such comfortable and easy camping gear from Dometic Outdoor – how easy it can help you get outdoors and stay out exploring for longer with loved ones.
Last year we also ventured to North Stradbroke Island with some friends. We would drive along the beach and look for some fun waves to surf. We took jet skis, electric bikes, surfboards, and fishing rods and had a few epic days. Once we were tired of surfing, we would launch the jet ski and catch some fish.
We were having such an epic time just hanging out at the beach all day in beautiful weather, catching and cooking fresh fish upon a fire, and just enjoying each day with good company. To us, that's what it's all about - enjoying epic days out and having a blast exploring the outdoors with friends.
WHAT DOES 'MOBILE LIVING MADE EASY' MEAN FOR MACY?
Mobile Living Made Easy to me means getting outdoors with loved ones easily and effortlessly. Even for someone inexperienced and only going camping once in a blue moon or is a young female like myself and just getting into the whole camping program, the Dometic gear is designed to make everything super easy and mobile for anywhere, anytime. I used to watch Sheldon set up everything, but with Dometic's range of gear, it can be as simple as pressing a button to open an awning or rooftop tent, inflate a tent, and pop open a camp chair.